Get Your Rubbish Removed Quickly and Responsibly
Rubbish removal is one of these tasks that you won't face very often but can be a real hassle. In such situations, Paul's Rubbish Removal Melbourne can be just the solution you need.
The company is a well-known local brand with vast experience in the field and a leader in effective household and office waste disposal. Call now, have the experts come to you, and get rid of your rubbish ASAP.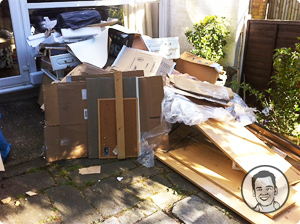 You could be surprised how many routine activities end up producing great amounts of rubbish. A renovation project, de-cluttering the basement, the attic, or your garage, garden maintenance, top-to-bottom spring cleaning, or office clean up.
You can easily find yourself swimming in unwanted, damaged, or broken items, wasted materials, or just regular household junk.
Fortunately, Paul's Rubbish Removal Melbourne has it all covered for you. We take almost all types of non-hazardous household and commercial waste:
Cardboard
Wood
Clothes, toys, and old carpeting
Appliances
Office equipment
Furniture pieces
Debris from building and renovation work
Simply get hold of our representatives and we'll make sure to tailor the most convenient rubbish removal solution. No matter if it is about green waste, furniture, and builders rubbish removal count on seasoned rubbish removalists to handle the waste in a jiffy.
Coverage and availability
Call now and book your rubbish removal appointment for a day and time that suit you the most. We cover Melbourne CBD as well as most inner and outer Melbourne suburbs.
For more information, questions, or special requests get in touch with our agents or send us a message via the online form.
Price formation
The best part about booking a rubbish removal service with Paul's is that the fee covers all aspects of waste removal – loading & unloading, tip fees, as well as fuel expenses. We also give you a free price quote and the price depends on the volume of the waste you want to be removed.
Besides, our garbos will handle the heavy lifting and cleaning so you don't have to bend over backward.
Go green with Paul's Rubbish Removal Melbourne!
On the day of the appointment, our trained technicians will come to your place, load the waste, and deliver it for disposal or recycling to the appropriate landfill.
What sets us apart from other rubbish removal companies is that we make an assessment of the rubbish we remove and recycle all we can. Any excess is disposed of responsibly and in an environment-friendly way.
Rubbish Removal FAQs:
Question 1
Question 2
Question 3
Question 4
Q: What types of rubbish do you take away?
A: We can handle all sorts of household, builders, and garden waste that are non-hazardous. We do not take the medical waste and chemical materials.
Q: What kind of vehicles do you use?
A: We operate a fleet of different size vehicles and choose the type depending on the size of the job and the volume of the waste that needs to be removed.
Q: Where is the waste transported to?
A: There are many disposal sites in the Melbourne area. After the removalists pick up the junk, depending on the location and the type of rubbish collected, they will decide which is the most appropriate drop off point and deliver the load there.
Q: Can you organise rubbish removal for commercial properties or offices?
A: Yes, we provide services for commercial customers and properties as well.