The Better Alternative to Skip Hire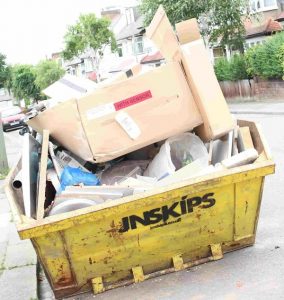 Need to swiftly get rid of the rubbish on your property? Book our service because we give you the most viable rubbish removal option that comply to all waste management regulations. Namely, professional 'hands on' rubbish removal service.
Our company always aims to provide you with the highest quality services. To make the procedure easier and less stressful for you is also our goal.
That's why we give you a list of the most important things you need to keep in mind when considering hire bin/skip before 'hands on' rubbish removal service:
It's a bit more complicated and expensive than the 'hands on' rubbish removal. The complications stem from the fact that you'll need a special permission to place the skip/bin. That is in case you're not planning to put it on your property. Getting this permission takes time and a certain fee which will not be included in the final price of the service.
There are other requirements you have to consider. Except for the council permission you'll need to think of a space on/near your property where you can place the skip/bin. Finding the right place is not always an easy task, but it is essential. Placing the skip/bin
incorrectly may result in difficulties with the loading process or in damage to your driveway or garden.
Loading the skip/bin is entirely up to you. Unlike the 'hands on' rubbish removal service, loading the skip/bin is your responsibility. Besides, if the skip/bin is not placed on your property, your neighbours might take advantage of the service you're paying for.
A pile of rubbish in front of your home is not a pleasant view. The skip/bin will be transported after it's been fully loaded but in the meantime, you will have it as a decoration to your house.
For easy booking a time and stress saving rubbish removal service you can contact us on 03 8566 7594 of simply fill our online form.